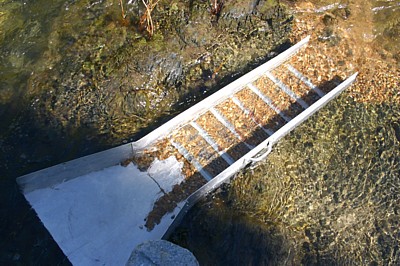 There are a lot of pieces that go into a successful PPC campaign.  You spend a lot of time coming up with messaging, creating an offer, and doing the research to put together a well structured PPC account that's sure to get you the traffic you want. You may find yourself wanting to skimp on landing page creative in order to save your budget to generate more of that traffic. But that's a lot like heading out to pan for gold without the right tools.  You can pick the right spot and sift for days, but you may miss those nuggets that you're looking for.
It's easy to forget how important a landing page is, but it can't be stressed enough. It's that magic point in the campaign where all your time and effort – not to mention marketing dollars – transforms into results. 
A good landing page is like a high quality sluice box. You can sift through the dirt and it will leave you with the gold you're looking for.  If it's done right, your landing page will do that for you too.  But if that sluice box is broken, you'll sift the gold out along with the gravel and get left with nothing.
So what can you do to make sure your landing page becomes as productive as possible?  Here are some points to consider:
Focus on transactional landing pages. That means creating an even exchange.  In the case of many successful landing pages, you exchange a valuable offer for a person's contact information.
Make your offer worth it.  You can craft a PPC campaign that delivers a certain audience to your pages, but if your offer doesn't speak to that audience's needs they may not be willing to make the exchange.
All elements of the page should be focused on your goal. You may find yourself wanting to cross promote other aspects of your brand on the landing page, but this will only serve as a distraction.  Keep your audience focused on the exchange.
Always be ready to test.  What works for some landing pages may not work for others.  You should always be prepared to test out different versions of your pages in order to find out what works best.
Don't get stale. Your landing page and offer may deliver great results for a while, but some things have a shelf life.  Don't get too caught up in an offer just because it worked well once.  A good offer can lose value over time so make sure you update both the offer and the landing page if possible, or even be prepared to create a new offer if your audience's needs change.
So remember that you wouldn't go prospecting for gold without the right tools.  With the right landing page, you can sift out the golden prospects you're looking for.
Download our Exceptional Landing Pages white paper to get more tips about optimizing your landing pages.